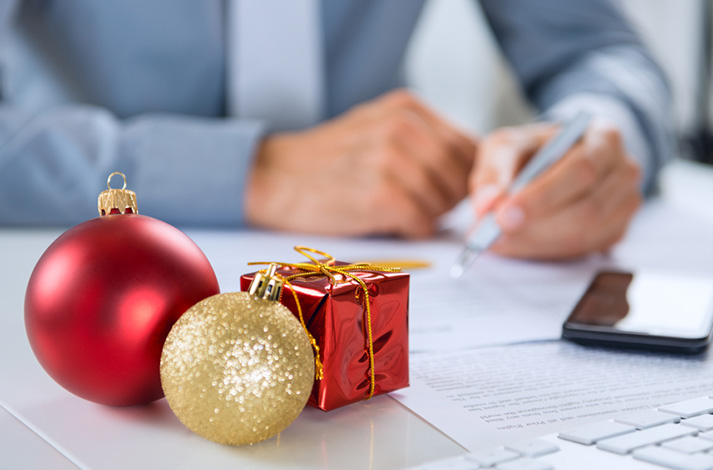 4 Ways Small Businesses Can Stay Productive During the Holidays
Between office festivities, get-togethers with family and friends, holiday travel plans, and the financial crunch that often occurs this time of year, there is plenty to distract you from work during the holidays. While you don't want to spend the whole winter working non-stop, you also don't want to face work in January and struggle to get back into the swing of it after two weeks off.
It's important to maintain productivity during the festive season so that you can enjoy this time with your loved ones as well as continuing to grow your business. It may feel like you're walking a tightrope, but with the help of these tips, you can ensure that productivity doesn't slack this season.
Get Organized
Staying focused in the midst of the hectic holiday season can seem like a daunting task. To survive it, find 30 minutes before starting work for the week to make a list of priorities and goals for the respective week and individual days. At the end of each workday, reconcile your calendar. Not only will checking off several tasks be a satisfying end to your day but you can move uncompleted tasks to the next day so that you don't fall behind.
Take a Break
If you can't take a break during the holiday season, when can you? Now is the time to relax, give your brain a break, and enjoy the parties, caroling, and gift-giving at this time of year. You may just return to work more energized and ready to be productive in the new year.
Offer Services and Products as Gifts
The holidays are the time of gift-giving, so why not dive headfirst into the spirit? Giving your products or services as gifts serve as a neat marketing strategy and gets you some goodwill. Of course, you should dress them up. Wrap up a gift certificate for the service or send in service personnel in holiday-themed attire. Even themed shirts with your embroidered company logo can serve as a way to get the word out!
Set (Realistic) Goals
Be realistic with yourself and your employees about how much you expect to be accomplished. As a business owner, you can offer flexible working hours for your employees to ensure that they can enjoy the season as well as finish their work, too. It's proven that employees are more productive when they are in the office and they have a flexible work schedule.
The team at Incredible Embroidery can ensure that you get your embroidered products out in time before the New Year. To get started, give us a call today on (818) 497-0333.